Attention!!!
Please noted that some fake brand who imitate AUN's design and style,


Their product without the unique code which means no quality guarantee,

Please be careful!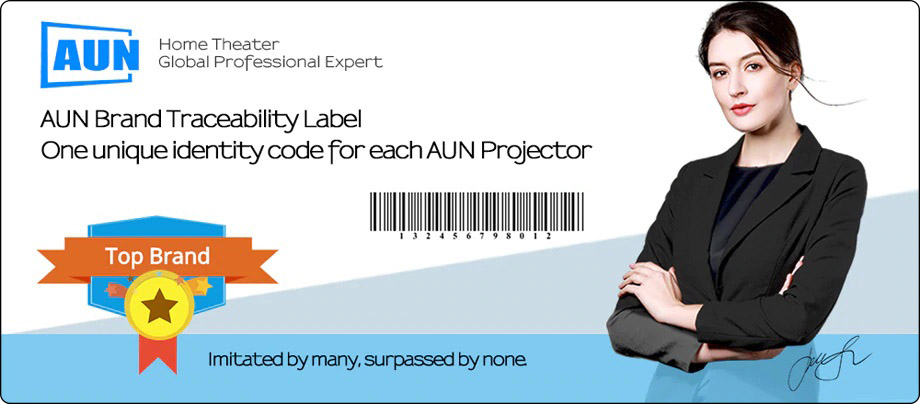 2019 New Mobile Phone Companion
Zoom in on your phone screen anytime, anywhere, whether it's sharing life or work, it's very simple
---
Parameter Optics 
① Brightness: 2000 lumens
② Physical Resolution: 854*480(WVGA)
③ Display Technology: DLP 0.3 inch DMD
④ Throw ratio: 1.19:1 (Distance/Width)
⑤ Projection Size: 30-100inches
⑥ Projection Distance: 1-5M
---
System / Hardware
① System: Multimedia presentation system ( You can play local video and photos through USB port )
② Sync Phone Screen: Support for Android / Apple systems
③ Sync screen mode: Wireless / Wired  (Wireless connection does not require external wifi)
④ CPU: RK3036,  Higher Standard Chips
Note: X3 Does not support connection WIFI, No Bluetooth function
---
① Battery: 3,200mAH
② Speaker: 8Ω1w, Diameter 22mm
③ Interface: USB*1, HD input*1, DC-in*1, Audio output*1
---
Real scene real shot
You can sync your phone screen to play games, or you can have a small meeting
1:1 Product Real Shot

Super Mini. My Portable Theater

DLP Display Technology
Brightness, contrast ratio is higher than the LCD projector, longer life, smaller size and more portable.
Life time: 30,000 Hours
Built-in Higher Standard Chips
Smoother operation, no delay in picture synchronization
Small screen becomes big screen
You can sync your phone screen to play games or watch videos throgh wireless or USB cable.(Support for Android / IOS systems)
Built in 3,200 MAH Battery
X3 standby time: 2 hours, Mobile cinema for outdoor travel, share happiness anytime, anywhere
Support mobile power or car charger charging (5V 3A)
Battery certification information
Home theater, Watching movies outdoors, Business meeting
Multiple colors to choose from
Black/White/Pink Colors, There is always one for you.
Product Display
Three styles in appearance will be sent randomly (apply to Black/White/Pink colors)
Machine detail display

Optional accessories
X3 Original Storage Bag, Click image to buy
How to connect X3 with your phone
  1.Android phone wireless connection X3
  2.Android phone wired connection X3
  3.Iphone wireless connection X3
  4.Iphone wired connection X3