AUN with classical series AKEY and Ubeamer, motivated by continuous innovation and excellent quality, aims to deliver multiple and best choices to your colorful screen-less life and lead you to see the world through larger screen.
History
EHimalaya (HongKong) Technology Co. Ltd Created AUN brand in Germany in 2013. Local warehouses in US, EU Countries, Russian and so on for local service. AUN provided premium home theater solution for around 200,000 families and become the best choice for home and work.
Q: Who We Are?
A: AUN Projector Bangladesh is the Sole Distributor of AUN under "Smart Living Bangladesh". Our vision is to become the premier online projector seller by providing an unparalleled selection of the very best projector and accessories, an unbeatable shopping experience, prompt shipping and exceptional customer service that exceeds expectation.
Q: About Product
A: AUN Projector Bangladesh offers 100% genuine AUN product that will be fully tested before shipment. All photos displayed are all taken in kind by AUN.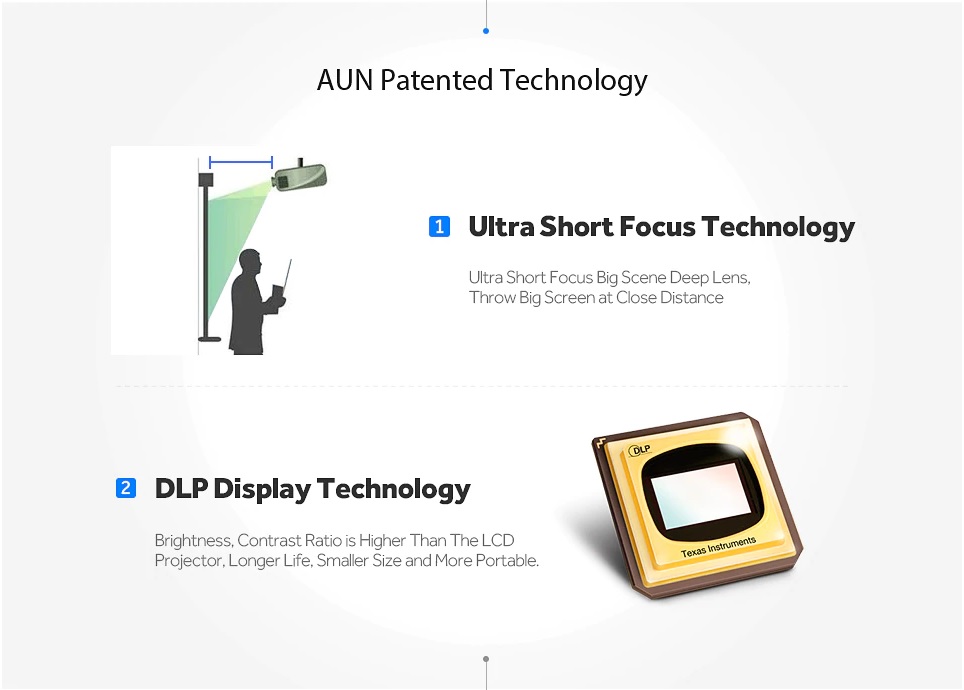 Q: About Warranty
A: AUN Projector Bangladesh offers 1-year hardware warranty for each product without personal error use.
>>>Click here to view more about Frequently Asked Questions
Q: About Sign of Parcel
A: Please open the parcel in post officer's presence, if the parcel damaged or empty(stolen), please ask the post office to provide official document and make the compliant on the spot.
Q: About Usage of Projector
A: >>>Click here to learn how to use
Q: About Feedback
A: AUN Projector Bangladesh regard customers as friends. We hope you can shop from us with more happiness and less worry. Please do not forget to leave us 5-Star feedback. Then you can contact our customer service to get a surprise gift.
How to verify the genuine product?
………………………………………………………………………………….
In order to allow you to buy AUN original products , protect your interests. We have upgraded the production line, and have added the product Identification System.
We guarantee that every product of AUN Official Store has been strictly inspected before shipping, also we have attached the unique identification code on the bottom of the product. You can enter the identification code to our official website to verify the identity of the product, and get the technical support. We have very strict demands on ourselves, in order to make our customers rest assure to purchase and use.
………………………………………………………………………………….
What is anti-counterfeit labels?
………………………………………………………………………………….
………………………………………………………………………………….
How to verify the genuine product?
………………………………………………………………………………….
1.First, please check the anti-counterfeit labels on your products, then enter the 12 digits anti-counterfeit code for the query.            http://fw.aun-projector.com/
2.Second, please enter the verification code after you entered the anti-counterfeit code.
3.Third, please click the "SUBMIT".
Query correct interface
Your purchase is Genuine AUN Product. You can enjoy the protection and service from AUN. Please contact AUN distributor for any further questions. Thank you for purchasing AUN products.
Repeat query interface
The anti-counterfeit code 12 has been checked. Beware of Imitations!
Query incorrect interface​
The anti-counterfeit code you query does not exist. Please enter the correct AUN anti-counterfeit code.
About Vision
At AUN, our vision is to become the premier online projector seller by providing an unparalleled selection of the very best projector and accessories, an unbeatable shopping experience.
We are AUN official store. All products are 100% genuine. All products will be fully tested before shipment. All photos displayed are all taken in kind by ourselves. But please kindly allow some color shading because of different monitors.
We regard customers as our friends. Our team think as customer and think for customer. Hope you will feel our passion and strive for AUN brand.
A lot of sellers imitate our brand, our product and settle a low price. We would rather adhere to the price and high quality for while than apologize for the cheap and bad quality for the whole life
About Quality: 
All products have been under strictly inspection. We promise perfect appearance and perfect function when we send it out. Please contact us directly if you have any problem with products received. Meanwhile, we promise that our products have a high cost performance. The quality is best comparing to the price. Please do not compare $50 products with $500 products. High performance and more expensive projectors would be highly recommended if buyer has particularly high requirements.
Q: Where is Manual?
For environmental protection, AUN products will not provide the paper manual any more.  You can log in AUN official website to get the multilingual user manual, downloads, support articles and other online support resources which will help you get the most out of your AUN products.     www.aun-projector.com
Q: Why Black Spot in Image?
A: Little dust may stick to the lens, a little dust will enlarge to black spot in image. Non-dust cloth wipe the lens may help. Ethyl alcohol is prohibited to use in this occasion.
Meanwhile, a lot of vents in projector for radiating. Little dust may be easily get into projector from the exhaust port during transportation and daily usage. This is a phenomenon may happen which is not the quality problem of the machine itself. Slight pat the projector to let the dust out. If still can't, You can open the projector to clean LCD screen.
Q: Why the Noise?
1. The lubricating oil in heat dissipation fan will be coagulated after projector turn off for while. The fan can have louder noise when we just turn it on. When the lubricating oil release the solidification, the noise will be lower.
2. Also, noise we can hear from projector come from 2 hardware. The first is color wheel. The rotate speed of color wheel is around 6000 revolutions per minute. The smaller of projector, the louder noise it could have. The situation is common for all projectors.
3. The second hardware is projector fan. The objection of fan is ventilation and heat dissipation. As projector apply intelligent fan control system. Fan will adjust revolution speed according to the temperature tested by thermistor. The higher speed may cause louder noise which intends to dissipate heat. Then it can protect projector and the lamp. If no more noise about fan, that's because the fan aging. Then you can consider to change a new fan. Or no protection for projector lamp or other hardware. Change a lower power fan to reduce brightness and heat dissipation is an optional method but not recommended by us.
Q: Why Can't Work with USB port?
A: Whether you are using moblie hard disk? If yes, please try common USB flash driver
Q: Why Can't Work with HDMI port?
1. Can you check the left top place of the project home page? Is it show USB and image before you connect HDMI cable? If yes, Please use your remote control to change to the HDMI channel.
2. There are 2 HDMI ports in the projector, therefore, there are 2 HDMI channel for choice in the screen. Please make sure that you choose the corresponding one.
3. If your projector cannot connect with computer, please check the HDMI cable with other device, such as TV box or TV. If the HDMI cable cannot work neither, there is problem with HDMI cable, Please contact us for support.
4. If HDMI cable workds in step 3, please try another computer (We met customers who successfully connect with one computer but the other not). If still no working, please adjust your computer resolution to the lowest.
5. If all failed, please contact us for firmware. We have strong tech team to support you. Never hesistate to contact us!
Q: Why AVI. MKV. Video Format Has No Sound?
 1. Is there any sound when you turn on the projector? If yes, maybe the cable of speaker in projector got loose during long transportation. Please contact us. If no, which proofs the speak built-in has no problem.
2. Whether sound with some video but no sound with some others? If yes, can you right-click the video with no sound, and search whether AC3 or Dolby in the details? If yes, we need to explain a little bit. AC3 (Audio Coding3) also named as Dolby Digital which is an advance audio compression technology. As Dolby company is controlling the copyright. Only player with Dolby copyrght can display AC3.
3. It's about the decoding not related to video format. You can also let us know your email address. We can provide avi. video demo for your test.
4. Meanwhile, If you watch video on Netflix, please try to close the Dolby option. Moreover, if AC3 is necessary for you, please choose Android projector, download Kodi player can solve this problem.
About Delivery:
Please unpack your parcel in presence of post officer before sign for it. Official damage proof document should be requested for damaged or stolen empty parcel.
Table of Contents 
1. Kind tips for usage of projector
2. How to switch the language of the product with Basic version.
3. How to connect the product with the cables correctly
4. How to choose the correct output channel
1. Kind tips for usage of projector
【Boot】: Before turning on projector, please first turn on the power supply of socket. When the projector is turned on, the indicator light flashes to indicate that the device is in the startup state. Once the indicator is no longer flashing, the next step can be performed. The preparation process may need around 10 seconds. During this period, frequent clicks on the start button will cause the inrush current which may affect the life of the lamp. 【AUN】
Note: Quickly turn on and off the projector repeatly will shorten the life time of lamp, therefore please kindly decrease the frequence of turn on and off. Turn on the projector at least 5 minutes after the turn off. Please remember to cut down the power completely if not use the projector for while.
【Shutdown】 Please first turn off the power of projector and wait till the projector cool down, then turn off the power supply of the socket. Do not turn off the power of socket immediately after turning off the projector. Please wait until there is no fan roration which means the heat dissipation is completed. Then the power of outlet can be turned off. Please never pull out the power plug directly which will cause the damage of main board or lamp because of the heat that has not be release.【AUN】
【Dust】 Please kindly understand that the usage life will be longer while using it in less dust room. Most projectors have a perticular fan for heat dissipation, High-speed airfow is still likely to entrain tiny dust particles once go through the filter dust net. They rub against each other to generate static electricity and are sticked to imaging and optical systems that affect the projection. Therefore, dustproof problem is very improtant for the usage of projector. Please keep your usage environment clean.【AUN】
【Vibration】Strong vibration will lead to the displacement of the LD screen which may cause the non-coincident of RGB color. Vibration will also cause to deformation and damage of lens and mirrors in optical system then finally affect the projection. Moreover, then lens may get damaged or stuck and even cracked which cannot be used as the severe shock.【AUN】
【Environment】
①. Do not block any ventilation openings. To ensure reliable operation of the projector and to protect from over heating, it is recommended to install the projector in a location that does not block ventilation. As an example, do not place the projector on a crowded coffee table, sofa, bed, etc. Do not put the projector in an enclosure such as a book case or a cabinet that restricts air flow.
②. Do not use the projector near water or moisture. To reduce the risk of fire and/or electric shock, do not expose the projector to rain or moisture.
③. Do not install near heat sources such as radiators, heaters, stoves or any other apparatus such as amplifiers that emits heat.
④. Please put the projector in horizontal place during usage.
⑤. Operation temperature:
For 0 – 2500 ft, 5 – 40 °C
For 2500 – 5000 ft, 5 – 35 °C
For 5000 – 10000 ft, 5 – 30 °C
Maximum Humidity:
Operating: 5°C ~ 35°C, 80%RH (Max.), Non-condensing
Storage: -20°C ~ 60°C, 80%RH (Max.), Non-condensing
Note: The ambient operating environment should be free of airborne smoke, grease, oil and other contaminants that can affect the operation or performance of the projector. Use of this product in adverse conditions will void the product warranty.
2. How to switch the language of the product with Basic version.
Just click the options button as belows to enter the language interface and then you can switch the language.(Multimedia player system, non-Android system)
The picture as belows shows the languages supported by the AUN projector(Multimedia player system, non-Android system)
3. How to connect the product with the cables correctly
4. How to choose the correct output channel
Switch to the appropriate channel, and then you can project the idea you want to show