Attention!!!
Please noted that some fake brand who imitate AUN's design and style,


Their product without the unique code which means no quality guarantee,

Please be careful!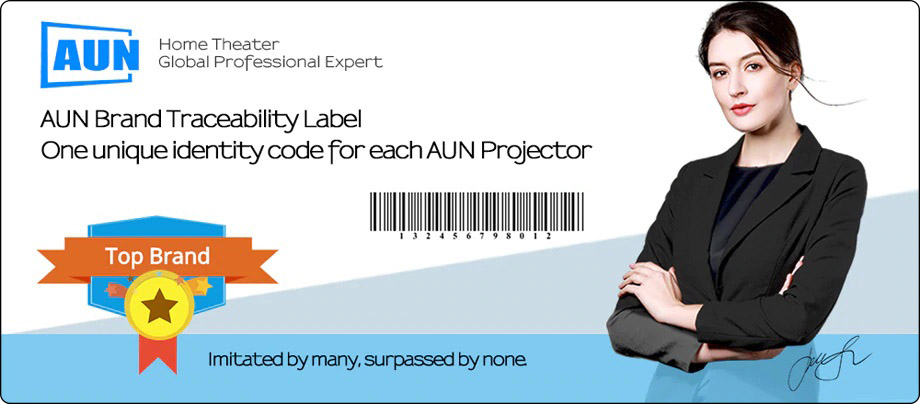 Slide Protection Cover
Passed the destruction test more than 100,000 times. Turn off the lens anytime and anywhere to protect privacy and lens.
---
Parameter Optics 
Brightness: 2000 lumens
Physical Resolution: 854*480(WVGA)
Display Technology: DLP 0.3 inch DMD
Throw ratio: 1.19:1 (Distance/Width)
Keystone:   Vertical ±40 degrees, Horizontal ±40 degrees   ( Tips:Under the HDMI none)
Projection Size: 30-120inches
---
System / Hardware
System: Android 7.1.2 OS
Voice control: For English (Optional version)
CPU:   PK3128,  Cortex-A7 1.2GHz
GPU:   ARM Mali-450 GPU
Memory: 1GB / 8GB (Optional 2GB / 16GB)
Video Decoding: Support 1080P
---
Wireless
WIFI: 2.4G/5G Wifi
Bluetooth: Bluetooth 4.1
---
Battery: 4,200mAh
Speaker: 8Ω1w, Diameter 22mm
---
1:1 Real Shot
Built-in Android 7.1.2 OS, Bluetooth 4.1
You can surf the Internet, watch online video, play Android game, online shopping and do presentation. You can also sync your phone screen to projector.
Built-in

 

Dual Channel WIFI. 2.4G and 5G WIFI
Bring you a smoother online experience

Sync the screen with the Smart Phone
5G WIFI, Links are smoother
Higher Standard Chips
All our data are genuine and true. Not like some other sellers who prefer to use fake parameters. You can open our projector to see the real information.
2 versions of memory for your choice
(version 1: RAM:1G, ROM:8G). (version 2: RAM:2G, ROM:16G)
DLP Display Technology
Brightness, contrast ratio is higher than the LCD projector, longer life, smaller size and more portable.
Life time: 30,000 Hours
Laptop Touchpad
Sensitive touch, bringing perfect operation for you
Built-in high-quality speaker
We used 8 Ω speaker to provide better sound experience not like some others sellers who used only 4 Ω speaker.
Built in 4,200 mAh Battery
X2 standby time: 2.6 hours
Battery certification information
Support mobile power or car charger charging (5V 3A)
All 5 star reviews+buyer show=Get free USB charging cable, please contact customer service for details.
Support Vertical, Horizontal Keystone correction
Vertical +/-40 degree,Horizontal +/-40 degree,  Suitable for a variety of environments
Support Voice control (Optional version)
For example, if you want to open YouTube, you can say: Open YouTube.
Remote Control (Voice version)
Home theater, Watching movies outdoors, Business meeting

Super Mini. My Portable Theater
Rich interface
super compatibility, compatible with 99% electronics

Product Show
Product List