Attention!!!
Please noted that some fake brand who imitate AUN's design and style,


Their product without the unique code which means no quality guarantee,

Please be careful!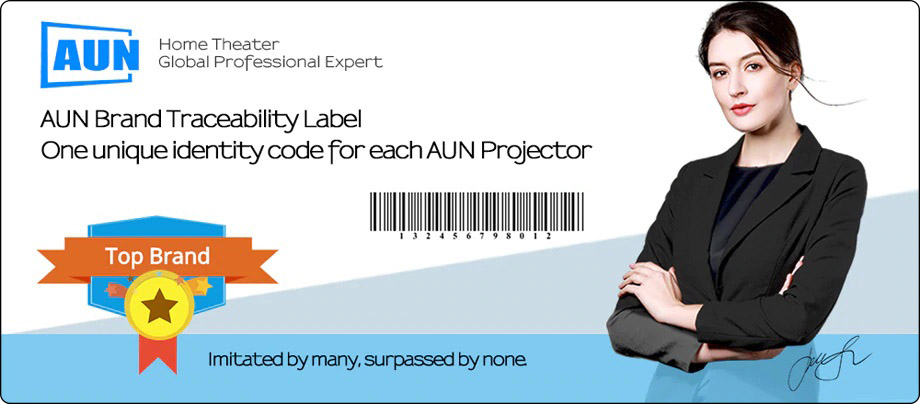 M18 / M18 UP Parameter     
---
System
M18 (Basic Version)
M18 UP (Android Version)
 System:  Multimedia presentation system
System: Android 6.0 OS, Support 4K Video decoding

Support Google play store, APK online install

CPU:  4-Cores ARM 64

GPU:  ARM  A35 GPU

Memory: 1G RAM /  8G ROM

WIFI:  2.4G

Bluetooth:  Bluetooth 4.0

Note: The files by SD card needs to be displayed in the File Manager in android version system.
---
Optics
Projection technology: 6 inch LCD
Physical resolution: 1920x1080P
LED lamp life: 30,000 hours
brightness: 5,500.  Peak Value Scope: 4,000 – 6,500 Lumens
---
Projection
Projection distance: 1.7-9.2m
Projection ratio: 1.35
Best projection distance: 3.2m/100inch
---
Interface
input: USB*2 (One USB only supports charging), HDMI*2, VGA, AV
output: 3.5 mm Earphone
---
Power
Power input: AC 110~240V
Power: 150W
Speaker: 5W
---
1:1 Real Shot

Full HD 1920×1080 Resolution
IPS LCD Screen.  Exclusive technology. Ultra high contrast. Restore true colors.
Support AC3 file decoding
Built in HIFI 5W Speaker. Shocking sound quality
Built-in Android 6.0, Support 4K Decoding. (Only for M18 UP)
You can surf the Internet, watch online video, play Android game, online shopping and do presentation. Tons of Android applicaitons for your choice.
LED illumination System
Lamp life: 30,000 hours. M18 can stay with you for 10 years with 8 hours usage per day.
Superb manufacturing process
USB Connection. Support decoding AC3 files
You don't need to connect your PC anymore. Just plug and play USB to watch movies pictures, music
Product Size
Authoritative certification
Guarantee stable product quality
installation method
Rich interface, Perfect compatibility
Provide you with the perfect audio-visual solution
Throw Ratio
Short focus principle design, larger image at a shorter distance

Real Show
---
Picture decoding
txt:max 1MB,
jpg(Base-line):max 8192X8192,
png(Non-interlace):9600X6400,
bmp:max 9600X6400
Video decoding
AC3
avi:MPEG1/2/4,1080P, 30fps max:20Mbps
mp4 :H.264,1080P, 30fps,max:20Mbps
mkv:H.263,1080P, 30fps,max:20Mbps
mov :AVS,1080P, 30fps.max:20Mbps
mpg:mpeg AVS, 1080P, 30fps.max:20Mbps
ts*tp*m2ts AVS ,1080P, 30fps.max:20Mbps
dat*.vob AVS ,1080P, 30fps.max:20Mbps
---
Product list
Optional accessories – Wireless HD Dongle